In this week's featured show interview, we spoke to Lucy Gabriel, one of the hosts of Breakfast of Champions! Lucy is graduating in a few weeks, but you can hear her on the air next Monday from 8-10am on BOC.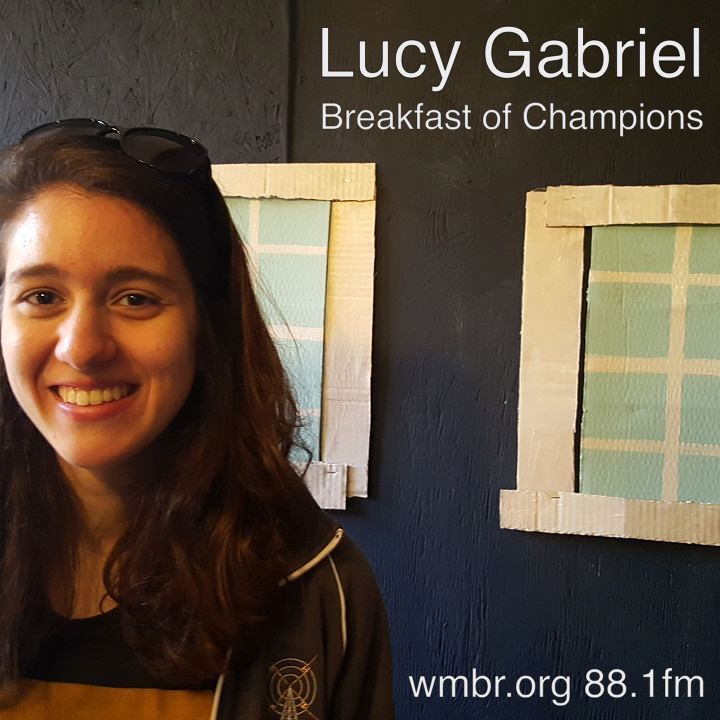 * How did you get involved in WMBR?
LUCY: I started listening to WMBR in high school. I mostly listened to DJ Awesome at first (I knew Keri since she's close friends with my older sister), but I quickly discovered that WMBR is The Best college radio station broadcasting anywhere. I dreamed of maybe someday getting into MIT…and having my own show on WMBR!!! I think I came down to the station on the very first day of Orientation Week, actually, and I signed up immediately. I jittered through my first show on October 3 of freshman year, and the rest was history!
* What do you most enjoy about hosting Breakfast of Champions?

L: I like that it forces me to keep up with new music. I feel like I have a duty to find gems or play things I like that haven't received much attention. I was asked to host a BoC slot when I started my sophomore year, and I was pretty nervous about holding my own with the other longtime hosts and having a larger audience. It wouldn't just be my grandma listening anymore! But I've really loved being a part of the BoC crew and interacting with more of our listeners. I definitely feel more pressure because it's a prime drive-time slot, but I think (hope) that makes me put together a better show. I want to make our listeners' mornings more enjoyable, if I can. It's the best feeling when someone calls in to say that they loved that track or the show that morning made their commute to work better. I feel truly privileged to discover and share music I love with so many people. (And my grandma does still listen. She's my harshest critic.)

* What music sums up how it feels as graduation draws nearer?

L: https://www.youtube.com/watch?v=GXFSK0ogeg4

* What's your favorite WMBR memory?

L: There are so many! Our annual Fundraising Week and the mailing party in December have been some of my favorite times at WMBR. I got to spend time with students and community members I never would have otherwise. I love the buzz of activity around the station. And one year I found some t-shirts in A Studio and Keith and Doug let me keep them! I mean, they weren't like…someone's old t-shirts…they were cool designs from a past year of Fundraising and nobody had claimed them yet. It's not like Keith and Doug leave bags of t-shirts strewn about the station. I mean, I guess there would be no way of knowing. They might do that. Anyway.
[You can view this interview on our Facebook page at this link!]