As our Spring 2019 Season ended, we were sad to take a final drive down the Lost Highway as Doug decided to retire the show. However, we're also excited to have new routes and paths to explore with a show called FM Road, hosted by Paige and Zach! FM Road takes you through roots, "Americana," country, bluegrass, and adjacent twang – just a little bit further down the Lost Highway.
Here's a featured show interview to help you get to know Paige and Zach! You can hear them on the air every Saturday from 8-10am. Paige and Zach also compile the WMBR Roots Report! If you'd like occasional email updates on concerts in related genres, you can subscribe to the mailing list using this link.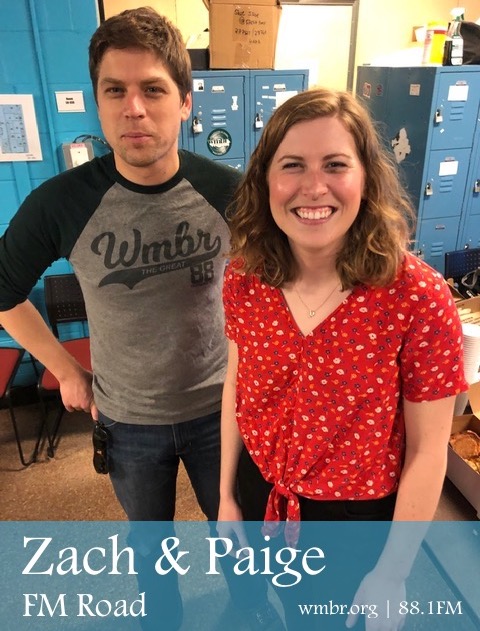 Zach & Paige of FM Road at the Lost Highway Farewell Party!
* How did you first get involved in WMBR?
PAIGE: I joined 'MBR as a grad student at MIT, which I survived so I'm out in the world now, but the radio station can't get rid of me. My first show was Alternating Current, which was basically selections of indie rock off the new CD rack.
ZACH: I'd been a listener for a few years, but I came in through the IAP 'Be a DJ' event. I didn't really know what to expect, but the roots-oriented people saw my program proposal and thought I should fill the open Saturday noon slot. So I did Trunk Full of Pearl there for two years (alternating with Southern Exposure) and now FM Road.
* How did you decide to do FM road together?
ZACH: After Doug Gesler retired Lost Highway, there was a hope to continue with a show in a similar format. Doug has so many dedicated listeners and we wanted to keep them engaged, especially since the show goes so well between 88 Rewound and Backwoods. Rick Biskit Roth asked Paige to do it. But two hours every Saturday morning is a big ask, so Paige asked me about pitching in. So we're alternating weeks, but it's the same program.
PAIGE: That's pretty much it. I love live music and I love country music (even mainstream pop country, Zach's, ahem, favorite!) and I love the history behind American music, generally, which Rick knew because I've subbed for Second Fiddle here and there.
* What does FM Road mean?
ZACH: You could check the Wikipedia entry. But basically it's a numbered rural route. The system is used in a few states, but is most well-known in Texas. Fun fact: FM 881 is in Jefferson, in East Texas. And I've actually driven right by it! My wife has family nearby in Louisiana, so I'm hoping to get some pictures of the road and the signs next time I'm down that way.
* Best part about going on the air?
ZACH: Listening to the OTA monitors at a higher than necessary volume.
PAIGE: Reading texts from listeners.
* What future radio plans are you most excited about?
PAIGE: I try to take it one day at a time! Two new ships on the horizon are that I'd really like to get some live acts in the studio once we settle in a bit, and then planning out our fundraising week gifts.
ZACH: With twice as much time as I used to have, I'm looking forward to stretching out a bit. I really want to play more bluegrass and may dig into some other kind of roots sub-genres. I'm also excited to learn from what Paige is doing and use it on my weeks. Already, she introduced me to a local act called Pretty Saro and I expect to play them often as their new record is released.