Our featured show interviews return: here's a chat with David & Amy, co-hosts of Treaty of Tordesillas! Their show focuses on Latin music, centred around Spanish and Portuguese lyrics but ranging far and wide across different genres and cultures.
You can hear Treaty of Tordesillas on the air every other Sunday at 2pm, including this week (2/24). Tune in at wmbr.org or 88.1FM!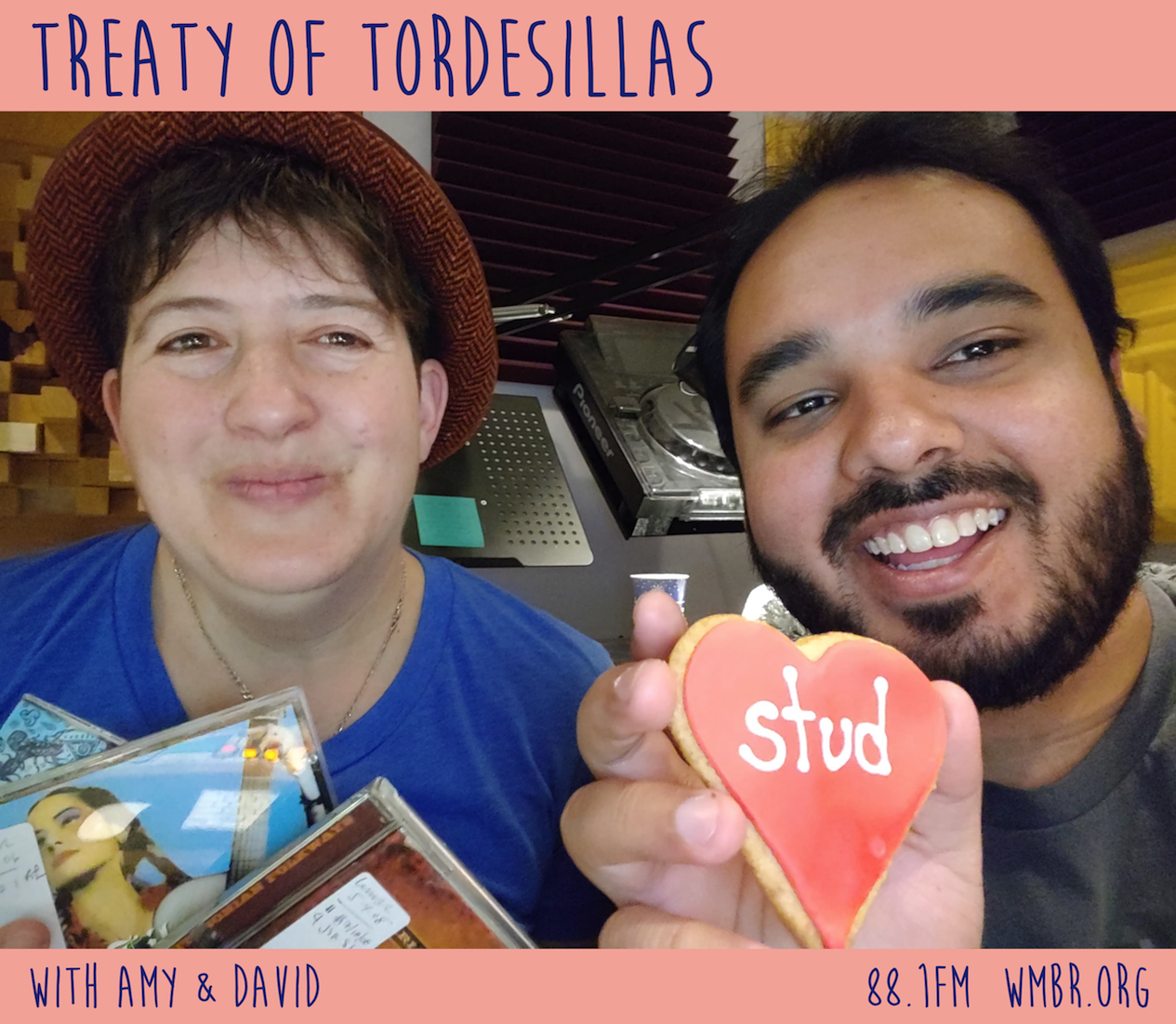 * How would you describe your show to a brand new listener?
AMY: I tell people we're an all Latin music show, but I usually break it down for them: that means we play anything from salsa to samba to cumbia, but could range as far South in the Americas as tango and as far North as rancheras. We focus on Spanish- and Portuguese-language lyrics, but we like to highlight the African roots of what we play.
DAVID: Our show focuses on the music of Latin America, of Spanish and Portuguese language. We wanted to make this as clear as possible, which is why we named our show after an obscure 1494 treaty that divided the "new" continent between Spain and Portugal. Our personal preferences are the rhythmic popular musics of late 20th century Brazil and the Caribbean, characterized by the fusion of Iberian and West/Central African musical traditions, but we also push ourselves into the indigenous, mestizo, and rock/pop music of the mainland.
* How did you end up hosting a show together?
DAVID: Amy's been a tender hooligan for a while, and a wonderfriend for even longer, so she'd be down here once a year to help us in the money-beg. Rumor was that she used to be a regular DJ in a time before me. After I completed the academic sentence that was my thesis I decided to do a second show, one that focused on the Spanish-language music I grew up with. That's when I found out how much Amy loved salsa and how she used to fulfill the latin american needs of our station. After my show finished, Amy started teasing how she wanted to come back but had her concerns, because doing a show ain't easy. I kept begging her to do it, so she threw her hat in the ring. Then she pulled it back out. So Fred, Caitlin, and I went all in on the Sunday lineup and I would host the Brazilian show she wanted to do, with or without her. And that's how you got the two of us!
AMY: Mercado was doing this series on his show (Tender Hooligans) where he was exclusively playing stuff in Spanish and Portuguese. I thought it would be fun to team up and do something that could highlight our, er, mad skillz. By which I mean our combined lived experiences (in Florida, in Colombia, in Sao Paulo, in Cuba) and our joint enthusiasm for all sounds Latinx.
* What's the process of creating your playlists?
AMY: It's been interesting, because David would prefer to plan a whole lot more in detail than we actually do, I suspect. I like to grab a bunch of general ideas or sounds from a variety of places (whether that's literally geographic places like different countries, or virtual places like blogs, my own collection, or the record library) and then pick what feels right in the moment of the show. It's very organic. If I try to plan it too much, it gets stale. Plus I guess I've never really liked a highly-produced sound.
DAVID: Amy creates a big chunk of our playlists, she likes to get in a couple of hours early and pick out music from the CD's in the music library and our locker. I typically stumble in 5 minutes before the show and help fill in the gaps. Whenever I do the show on my own I like to research the history of what I'm playing and spend several hours sorting through music online and meticulously organizing my sets. On our more collaborative weeks we meet in the middle, show each other what we got, and slap things together on the air.
* Tell us a memory/story/haiku/etc that best describes your cohost.
AMY: Hmm… I guess I should avoid the obvious ones about him sleeping late? ha! Seriously, I love David because he's such a good sport. Fred Allen and I are always making fun of him in the station for oversleeping, but he doesn't get offended. He's also just got a great sense of humor. And he's the least-stressed-out person I've ever met at MIT, which is pretty impressive. How does he do that??
DAVID: Last season, the programming meeting was 2 hours after our show ended, so we walk over to Flour for baked goods. As we're walking back, Amy's prancing with delight at the giant cupcake in her hand. It was this big chocolate cupcake with a mountain of frosting on top. Then, without warning, the cupcake falls apart and the frosting comes tumbling down onto the sidewalk. Her smile fades into a pout as frosting meant for her lips is now splashed all over her shoes. Dejectedly we drag through the rest of the block, but as soon as we cross the street Amy's already laughing about something else.