Our second fundraising featured show interview is with the team behind Pipeline! – Jeff Breeze and Mike Reed! Pipeline! is WMBR's local, live music show, featuring new releases from all over New England and a live band nearly every week. You can tune in to Pipeline! every Tuesday from 8-10pm, including tonight.
It's the second-to-last day of our fundraising week, and also happens to be Mike's last WMBR fundraiser before he moves out of town! Our station is entirely volunteer-run, which includes all the work that goes into booking, engineering and producing live music in our studios for the airwaves. You can support our fundraiser on our website or by calling 617-253-8810.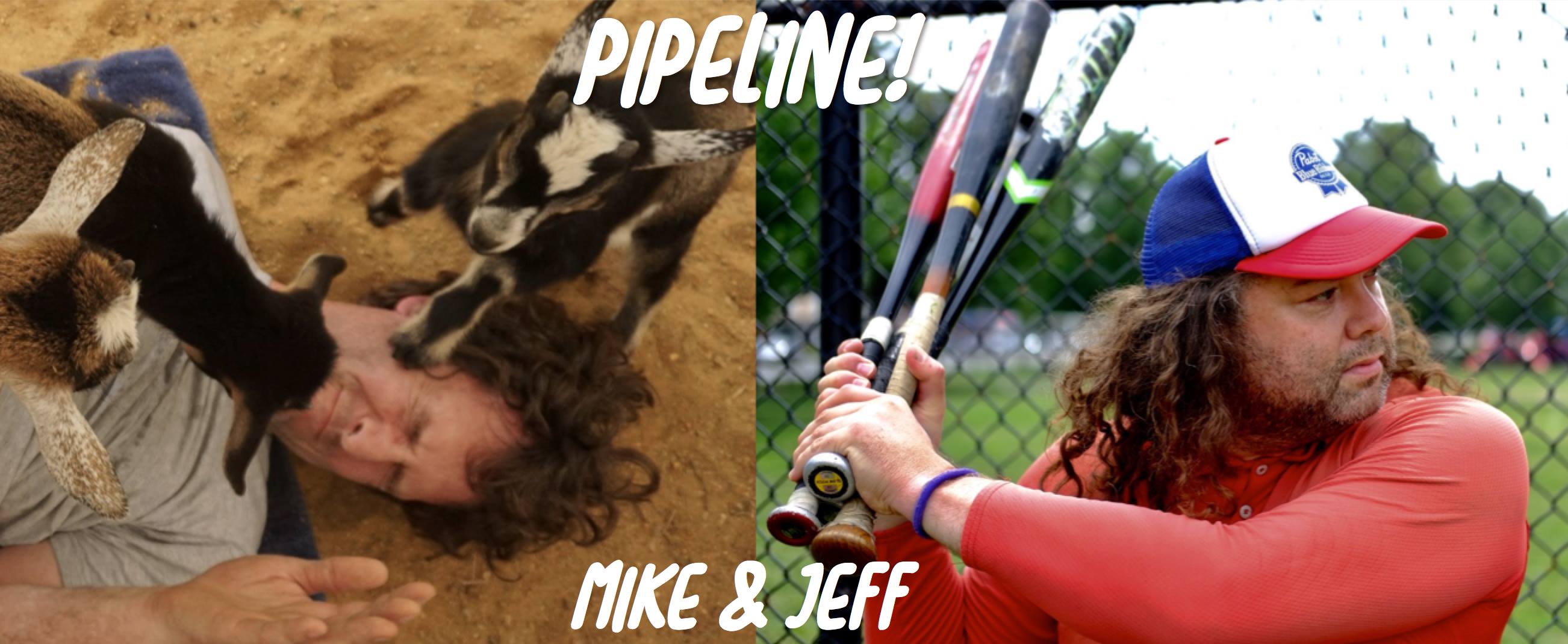 ** How did you get involved in WMBR?
JEFF: I visited the radio station with a band that was playing Pipeline! and having hosted a live music show on KCOU at the University of Missouri, I offered up my services to the engineering staff. Conveniently, one of the engineers was moving to New York the next week and I started the next Tuesday after he left.
MIKE: I was pals w/ one of the engineers at that time, Bryan Cord, when I stopped doing my Friday eve show (Live from Sour City). He said Pipeline was looking for engineers, so I joined the fray.
** What goes into making each episode of Pipeline! work?
JEFF: Each hour of our show is the result of so much time it's difficult to describe. The first hour is new music from local bands, but for the past few years we've found the volume of music coming out in New England has made it so that all of the songs that we play during an episode have been released during the previous week. Finding 20 songs each week to play means searching across New England and listening to almost everything in a quest to find the true gems. It takes a lot of work to build a network across the region, but with enough ears assisting me, we find most of the great music that is being produced.
The second hour features a live band every week. I generally handle the booking of each week's show taking input from Mike and from other DJs at the station who pay attention to the local scene and may see bands that I haven't found yet. I also do the live engineering for solo acts that play in the booth with me, and work double duty those days. I usually also take a picture of the live performances and post it to our Instagram account as it is happening.
MIKE: We welcome the band & set them up in the room in a way that sounds best. We put out ~16 mics, 1 on each instrument, and then mix them live, as they play, on an analog mixer. We broadcast that mix, as well as record it to the computer. Afterwards, we do a light mastering of the session, cut it up into songs, and give each member of the band a CD of their performance – 3.5 hours, all told!
** How has WMBR changed since you first joined?
MIKE: The tech staff we've had over the past few years has been very engaged & helped install or fix many of the improvements to the recording gear (e.g. new outboard gear, patchbay routing).
JEFF: There's no more functional tape decks and some rooms have had a paint job, but so much of the station is the same. For the show, it's really a matter of technology. No longer are local bands pressing a few thousand CDs and sending us copies in hopes that someone will play their music. Now it's me going out and raking the internet to find the newest music as soon as bands post it on bandcamp or soundcloud or wherever songs hide on the dark web.
** What's next for the both of you and for Pipeline?
JEFF: Next year will mark 30 years since the show began, and I've been hosting for the past 15. How we'll celebrate hasn't been determined yet, but odds are good that some great new music will help lead the way.
MIKE: I'm training a new staff of engineers so I can turn over the fun to fresh ears!
** What's your favourite WMBR/Pipeline! memory?
MIKE: I've recorded some personal favorites over the years: Kurt Vile, Pile, Chris Brokaw, Willy Mason. Almost without exception, bands are very pleasant to work with.
JEFF: So many great live performances from bands I've loved have made the show worthwhile, with some of the best moments coming when we convince bands from other parts of New England to come to MIT just to play on the radio. I remember getting Gary Higgins to come and play his Red Hash album which had been lost when he went to jail in the early 70s in Connecticut, but brought his son and one of the other original band members in to play when the album got reissued on Drag City.
My favorite moment of all didn't happen at WMBR. It happened one day when I was visiting Maine and was looking for something to do with friends of mine and we decided to rent a movie from Videoport. Here I was wandering the aisles of a video store and I'm amazed that I know all of the songs on the playlist that they are listening to, and then there's a break and my voice comes on. My hopes to try to bring the music scenes of New England together bore fruit when I found me talking about bands from Rhode Island on a stream of Pipeline! being played as part of the regular week at a store in Portland. The satisfaction that someone was listening was pretty great, since I'm usually at the station when I'm on the air, to hear myself and local music in a place like that made me feel like all of the work that I put into this does matter to someone.