As WMBR's fundraising week ploughs ahead, we took a minute to talk to our Music Directors, Chris & Patrick, for a featured "show" interview! Music acquisition is one of the things that your pledge helps us do, alongside all of the technical improvements and maintenance to keep our station running. We're an all-volunteer station, including our management members.
You can pledge your support on our website or by calling 617-253-8810!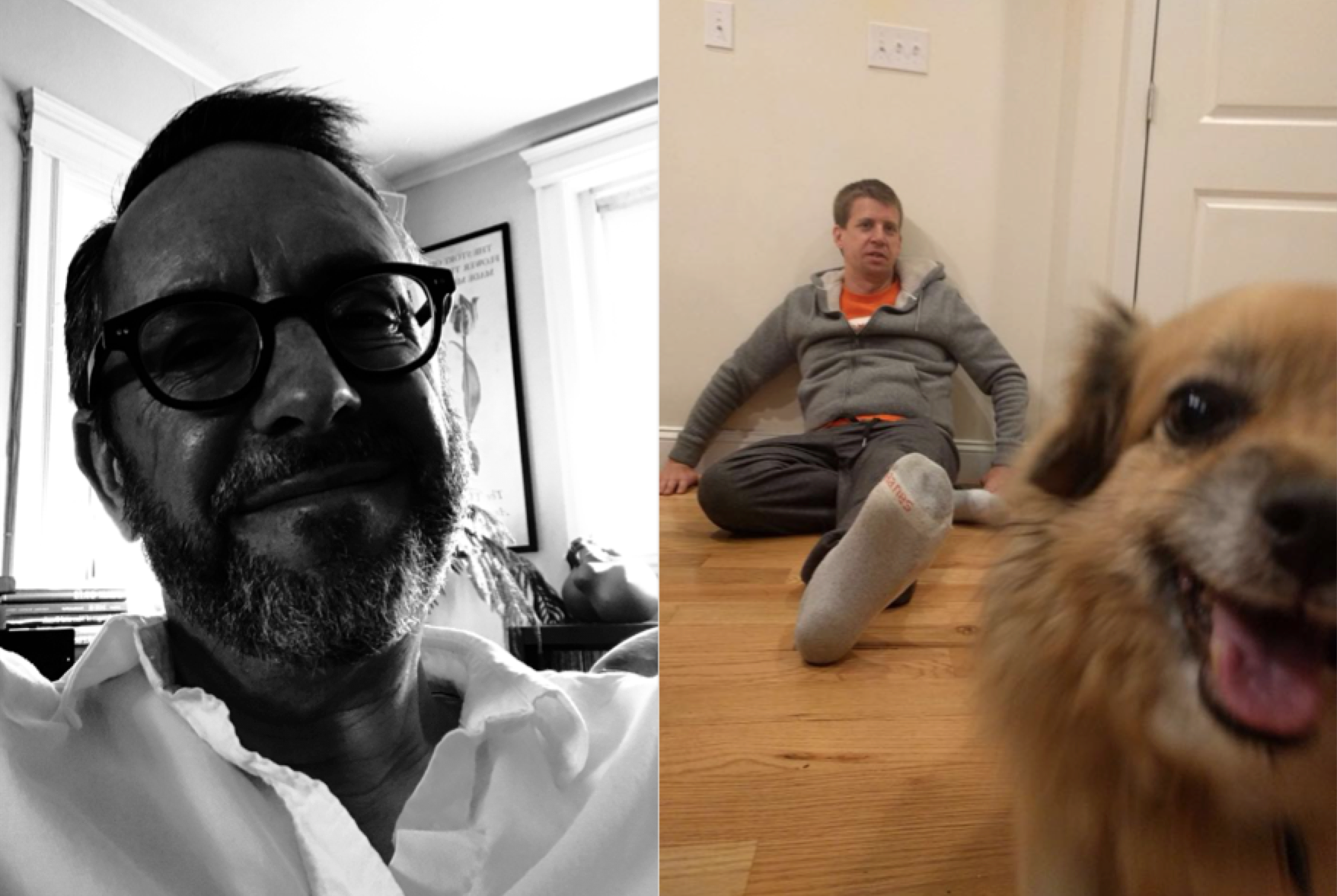 ** How did you get involved in the WMBR and how did you end up as Music Co-Directors?
CHRIS: I had been listening to WMBR for several years after moving from western Massachusetts in the late 90s and one fundraiser I ginned my nerve up and pledged for an hour of airtime with Jon Bernhardt. After that, I was hooked. I had done radio in high school and college at WMUA in Amherst and thought I'd like to get back into it. Once I quit my job in 2005 without a plan (thanks, wife!), I was home alone one August afternoon bumming around and heard an announcement on the station saying that WMBR was desperate for DJs to do Lost & Found. I was free in the middle of the day since I didn't have a job so I went for it. The rest is (the painful) history for the ears of Cambridge/Boston.
The music director roll was a right place at the right time type of deal. I had been "helping" Patrick after I joined the station in '05 doing music entry and I got to watch him do the job every Saturday for several years. When he left to take a paying job in Portland, OR, I figured-with the continuous advice of Keith Sawyer-I could handle the roll myself. I applied and got it, doing an uneven job until Patrick moved back to the area. I immediately asked him to come back and help me. We share jobs and manage the department together with each of us focusing on different aspects of being an MD. I handle the promoters, labels, and bands via email and phone; Patrick is the primary purchaser of music as well as being in charge of the burgeoning download situation.
PATRICK: WMBR was an oasis of music and culture when I moved to Cambridge are in 1998, and epitomized the college radio of my dreams: eclectic, free-form, loony. (My actual college radio station, WDBM, at Michigan State was a terrible rigidly formated radio station that aspired to be a training ground for corporate radio personalities). Then-Breakfast of Champions mainstay Keith Sawyer was my north star, introducing me to artists (Chocolate Genius, for one) that delight me to this day. Mischievously, I donated for an hour of radio time on Keith's program in 2001 and hoodwinked him into aiding me to join the radio station – a decision he probably regards as the worst of his radio career. Keith, then the Music Director, bequeathed the title to me, which primarily involves opening mail and liking music despised by the rest of WMBR DJ's. I held that position until 2010 when I moved (or was ostracized) to Oregon.
Upon my ignominious return to Cambridge area, Vyce took pity upon me and allowed me to open mail once again. Just as parents and bosses try to inspire children to perform drudgery by giving them nonsensical titles (Chief Weed Puller! Senior Dish Washer!), Vyce gave me the title of Co-Music Director. I remind him on a weekly basis why that was the most questionable decision of his broadcasting career.
** What's your favourite part of being MDs at WMBR?
PATRICK: Opening mail. It's like Christmas everyday to see what musical goodies have been gifted to us, as well as the Christmas-like disappointment and emptiness one feels after opening all the gifts. Having access to music that I might not otherwise even consider playing or enjoying. And purchasing music for the radio station of titles that we do not receive. Finally, I love that i have no influence whatsoever on what WMBR dj's play. Not only do we not limit or mandate what is played, even my enthusiastic endorsement of a release is greeted with a collective shrug or giggle by fellow DJs.
CHRIS: It's gonna sound corny but I really like working with the members to make sure that we have the music they want to spin. Our strength is the incredible range, dedication, and variety of our DJs and the knowledge they bring to their shows. It is really satisfying to hear something we've purchased-or have been asked for by staff-garner a ton of spins on the station…you know, become an 'MBR "hit."
** Give a description of each other's shows!
PATRICK: Whereas as the current incarnation of my show revels in the ironies and accidental-good taste of post-rock cover artists, Vyce's Lost and Found is an unwaveringly earnest dive into the strugglers and strivers of (mostly) American music, with a deep abiding love of gospel, soul and country-inspired musics (plus the Kinks and Jamaican artists). Speaking of Jamaica, he is a Selectah in the sound system – he loves every single song he plays and he hopes you will react with the same delight. It's a two-hour burst of afternoon joy that is like a soundtrack to a house party, adventurous road trip, or just, more likely, a cubicle imprisonment. His recurring features drop a dose of knowledge – the Fixin' To Die Rag feature uses music to remind us of the ravages of the Vietnam War boondoggle (for which he shares a personal connection; Simon White's Little Richard Lost & Found, allows his English doppelganger to make a case for Richard Penniman, the rambunctious, queer musical polyglot as, perhaps, the most important musician of the 20th century.
If you dont walk away from every one of Vyce's show with at least one new favorite song, then perhaps you need a new set of ears.
CHRIS: Subject 2 Change-along with the Intercontinental-is my favorite show on the station. Patrick's blend of humor, music, and the amazing Somerville Speakout make for an unforgettable show each and every week. I am constantly surprised by the depth and range of Patrick's musical knowledge…it's quite intimidating really. He has seemingly heard everything and he brings that to his show to our benefit. Nothing illustrates this better than Patnauseum where he fills his shows with multple versions of the same song from various genres, eras, performers, and styles. Disco to soul to post rock to noise to…everything. Totally amazing…plus Somerville Speakout is Emmy worthy.
** Current favourite(s) from the New Releases shelf?
CHRIS: One of the great things about doing the Lost & Found is that for far too long I was one of those music people who had no understanding of what came before for bands and musicians. For instance, I knew that Dionne Warwick had done music in the past but I only knew about her as the cheesy pitchwoman for the Psychic Network telephone thing. It turns out she is an incredible singer with a range of ability that would make most performers weep. "Loneliness Remembers What Happiness Forgets" is a masterpiece and I wouldn't have ever found it if it weren't for my L&F show. To wit: I hated, hated, hated Bob Seger. "Like a Rock," "Against the Wind," or "Night Moves" would make me pull my hair out when they got played on the stations I listened to before WMBR. The new reissue of Bob Seger & the Last Heard music recorded for Cameo in 1966-67 is just awesome and showed me what I didn't know. Boozy, bluesy rock with a huge attitude. It's my favorite release in the new rack right now.
PATRICK: My main duty as Co-MD involves opening digital mail – making digital releases available for other DJs to consider (and generally reject). So, this "forces" me to encounter music I might not otherwise go near. As such, I'm partial to the spectral pedal steel voicings of Heather Leigh on her Throne release (Editions Mego), the minimalist, interrogatory cabaret soundscales of Paula Rae Gibson and Kit Downes (imagine Annette Peacock, Hugo Largo, et cetera). If you instead used more conventional strings (and harp!) on that, then you'd get the dreamy Meg/Baird Mary Lattimore collaboration on Three-lobed. I'm late to the Obnox party, but Lamont Thomas (who has been scraping the midwestern blues-battered rock underground in Bassholes and This Moment in Black History), is creating wily future shock jamz, like a collision of Chocolate Genius and Sleaford Mods The digital reissue of Beta Band has reacquainted me with the charming stoner psychedelia of this Britpop antidote. Finally, Snail Mail's Pristine is wise beyond her years.
Want to support WMBR during our 2018 fundraiser? Visit our website to pledge!