Our current featured show is CoLab Radio on Air, hosted by Lawrence! CoLab Radio on Air explores who shapes cities and how they do so. The show airs every other Wednesday at 8pm, including tonight 8/29! Tune in at wmbr.org or 88.1FM to listen.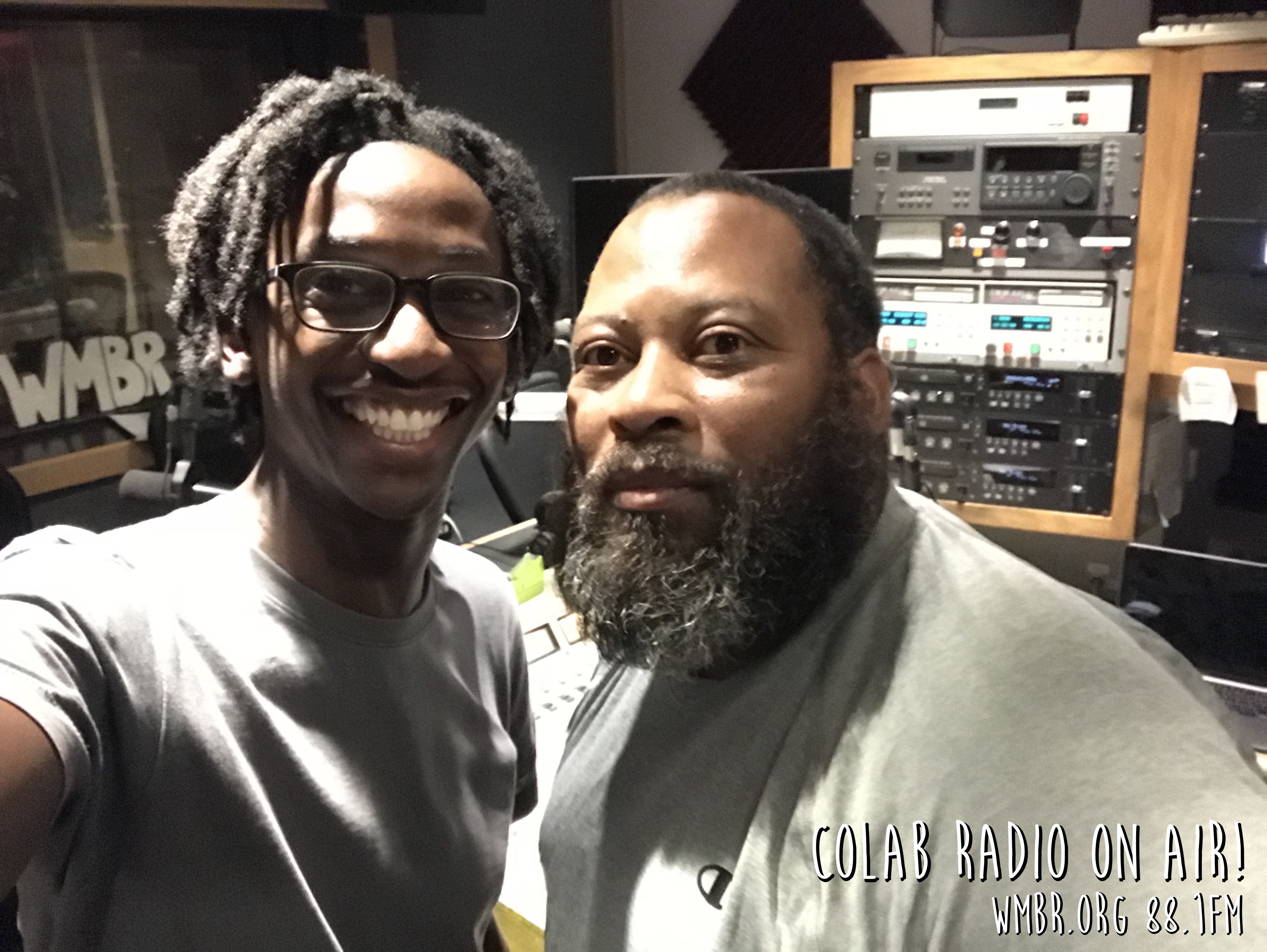 Lawrence Barriner II (host), Kenneth Bailey (show guest for Episode 6)!
* What excites you most about being a new member at the station?
LAWRENCE: Well, I just passed my on-the-air (OTA)test a few weeks ago that felt pretty exciting. I haven't studied for an in-person, live test like that since before graduate school; it was cool to remember that I still had all those muscles. I didn't get a perfect score, but I still felt good about how much I was able to learn about how to be fully in charge of what's going out into the world from a real life radio antenna!
But if I'm really honest, I think what I'm most excited about it is the possibility to build intergenerational friendships. I think so many issues with our democracy spawn from our lack of meaningful contact with people who are different from us so I'm pretty jazzed to hopefully get to know people both older and younger than me in the future of my time at WMBR.
* What type of show is CoLab Radio on Air and what do you put out on it?
L: I wasn't totally sure what type of show CoLab Radio on Air was, but one time my OTA trainer (shoutout to the magical Galen Mook) said to someone else that it was a variety show and I think that feels spot on. The show has a mix of music, interviews, conversations, and poetry. The general themes for the show are self-determination and the forces and people that shape the cities and space we all live in. The music for each episode is often tied to some idea that connects back to self-determination or cities: for a few episodes I've played music all related to transit; last week I played songs that were only from artists who got started in Boston. It's all all over the place but, hey… that's what experimentation is for (at least for me)!
* How did CoLab Radio on Air get started?
L: My current day job is being the Program Director of Community Media at CoLab and the Executive Editor of CoLab Radio. What's funny (and surprising to 95% of people) is that CoLab Radio is a blog! The blog was started by Alexa Mills back in 2009/2010 and it was intended to be web portal/platform for audio stories. In reality, it evolved as a blog for written stories but the name stuck (Alexa even wrote a blog post explaining the backstory of the name "CoLab Radio.")
I happened to be an undergraduate student at MIT during the time CoLab Radio was getting off the ground and so I knew Alexa as well as some of the original vision. One day in Spring 2018 after meeting Yanisa to talk about research, she suggested that I drop by the station for an introduction and that's when I saw the opportunity: I could make CoLab Radio radio! I actually debated calling the show CoLab Radio2, but I didn't want to have to explain TWO backstories, heh.
This first season is a pilot season where I'm testing out this one iteration/idea of the show. I hope it will evolve over time as I learn and invite some other folks in to help host…
* What's been a particularly thought-provoking topic you've discussed on your show?
L: The most thought-provoking topic and conversation I've had on the show was a conversation with Ayushi Roy, a current student in the Department of Urban Studies and Planning (DUSP) and co-host of The Move Podcast, about the definition of the "self" as it relates to one of the themes of the show, self-determination. It was a fascination conversation and I'm really sad it got truncated because of technical issues. The audio from the conversation can be found here on CoLab Radio's Soundcloud account.
* Do you have plans for the future of the show?
L: My dream is for the show to eventually be run or co-hosted by either (a) students connected to DUSP or (b) students from across campus who are interested in self-determination and/or how cities function or how art (specifically music and poetry) and cities are influence each other. I like the idea of using the show as an opportunity to get ideas and conversations out into the world from people doing interesting work that they think is interesting and is good for their communities. We'll see how that goes though…