We're starting off our summer season show features with Africa Kabisa, hosted by Julia Mongo and Muna Kangsen! Africa Kabisa means "Africa Absolutely" and first aired at WMBR in 1992, featuring classic and contemporary African and Afro-Caribbean music alongside interviews and discussion on African-related topics.
You can listen to Africa Kabisa on Sundays from 4-6pm, except for the last Sunday of each month (when Brutus hosts Worldbeat). This is a part of Sunday's "world music block", featuring programs that draw upon music and other content from across the world.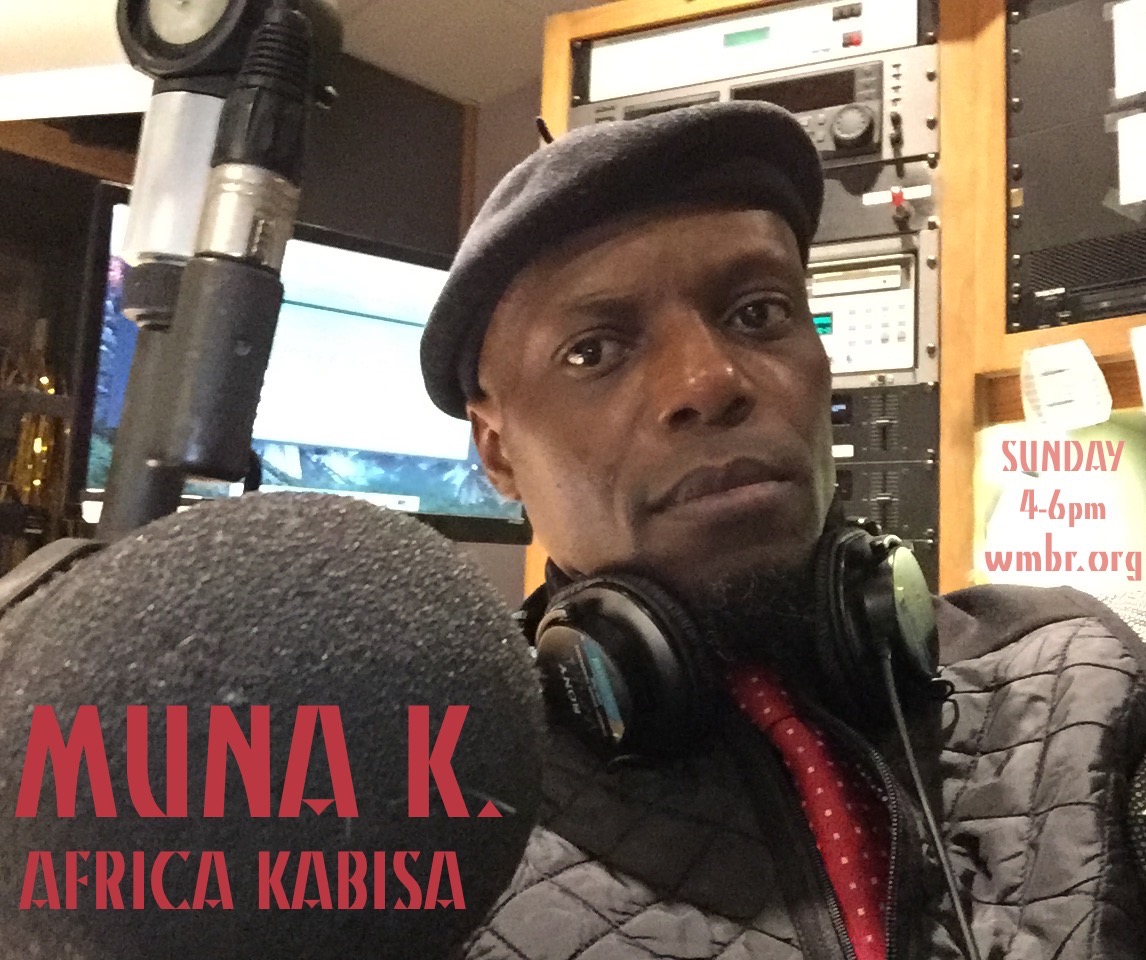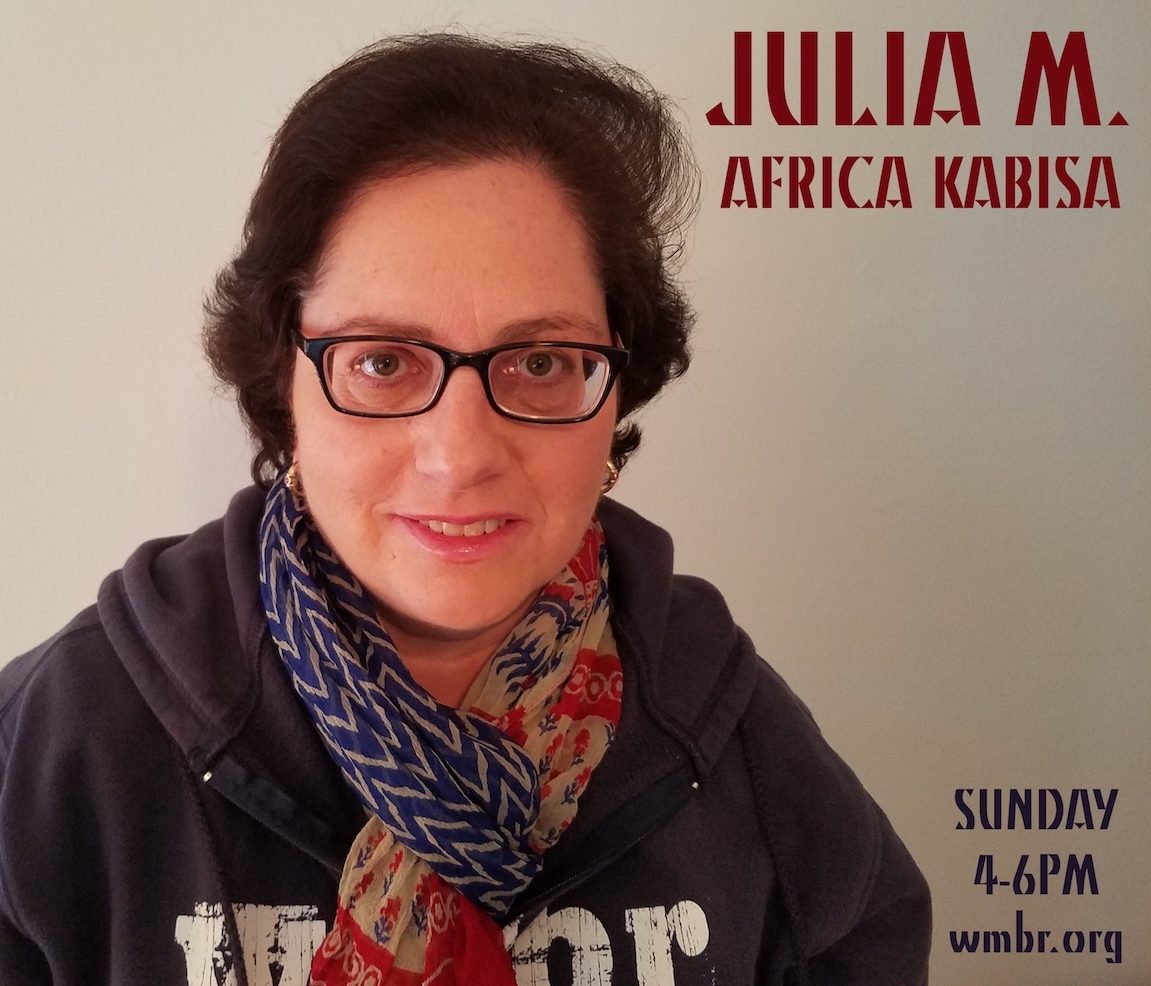 *** How did you both get involved in WMBR?
JULIA: I hosted throughout the 1980s and early 1990s many shows (jump blues, jazz, reggae) on the Harvard station WHRB, and was friends with Magnus Johnstone, the host of WMBR's African music show Aliens Corner. When he moved over to 'ZBC to do other programming, I wanted to bring back African music to his Sundays 4-6pm time slot.
This was in 1992, and Boston had a very active African club scene but no radio program to showcase it. I felt it important to highlight popular African music (especially music listened to by Africans but not marketed to Americans) and also the vibrant African expat community in the Greater Boston area. Hopefully, to counteract some of the negative stereotypes of Africa that were and are prevalent in general media coverage.
For our African listeners, the show is a source of pride and connection to the motherland; for our American audience, it serves to educate and inform that Africa is an eclectic continent of great culture, diversity, and phenomenal music.
After some 25 years of doing a weekly Sunday music show, I really needed a break but didn't want the show to end. But I knew it would be tough to find a replacement host. I was happy and relieved when Muna stepped forward to carry on the Africa Kabisa tradition. He's done a wonderful job.
MUNA: I got involved through Julia. I'd been a listener for a long time and knew Julia informally so when I heard that Julia was looking for a replacement, I contacted her and we discussed our musical interests and how we could work together to keep Africa Kabisa going.
*** Julia, what's it like to be back on the air after a break from hosting the show?
JULIA: I'm so touched to receive calls from some of the same loyal listeners who have been tuning in for decades. The affection they have for Africa Kabisa is what kept me going for so long and what I hope will keep the show going in the future. So many people describe Africa Kabisa as their "lifeline." Nothing moves me more than when I play an old song and someone calls to tell me the sweet memories it evokes — listening to the song with their father or mother, dancing with a girl back home long ago. Life in America is tough for many immigrants– I'm happy to provide a few hours of positive energy and solace. It's also great to hear from new listeners who are just discovering the program and the music.
*** Muna, what are you most excited about for the summer season?
MUNA: I am most excited this summer about live music events. I try to catch a some artists during Summer Stage in NYC. I also go to Reggae on the River in Northern California, which now includes a greater number of African artists.
*** What do you both do outside of WMBR?
MUNA: I am also excited about my job as coordinator of events and programs for the Cambridge Public Library system, especially since my work allows me the opportunity to plan live musical events. I am especially excited that the Cambridge Public Library will host a live music event on July 17. Artists performing are: Paa Seck Diery and Diery Band playing Mbalax, Senegal's Afropop blend; 3Nity, an all women salsa band and Rachel Marie, a very talented folk singer.
JULIA: I advise MIT students as the Fulbright Program Advisor for MIT's Office of Distinguished Fellowships, and also work with the Prehealth Advising Office. MIT students are truly the best!
*** How do you put your playlists together and find new music?
JULIA: Ironically, the cutting-edge new African music hot from the nightclub dance floors that I used to play, has now become the nostalgic music that I currently spin. I don't really bother to keep up anymore with new trends. I do slip into playlists new releases when we receive them (whether from actual new music or reissues of old music) but we don't get as many as we used to. I'm content, and listeners seem to be as well, to hear music that runs the gamut from the 1950s – 2010s, especially the 1970s, which was a golden age of African music. Congolese music was and is my favorite and tends to dominate my playlists, but I try to make sure each show includes music from throughout the continent as well as African diaspora countries such as Haiti, Cuba, Guadeloupe, and Colombia. Africa Kabisa means Africa Absolutely and our theme song, Africa Mokili Mobimba, means Africa Everywhere (Africa in the Entire World). I hope we live up to that in our playlists.
MUNA: Putting my playlist together is a weeklong endeavor. I am constantly listening to music: while commuting to work, doing chores at home etc. I make a note of the music I am inspired by. I also get to the station an hour or two early and go through the African selection to identify anything of interests. Play lists are also influenced by geography in that I try to select music from the four corners of the continent and its diaspora. Listener requests also play a role in putting my play list together. I am always looking for new music. I visit the Sterns Africa website and the websites of various labels that release African artists like World Circuit. I travel to the continent from time-to-time and pick up music that is of interest. I also get a lot of recommendations from friends and family members.
*** What are your favourite listener interactions or WMBR memories?
MUNA: My favorite listener interactions usually occur when someone calls to say the music I play brought back great memories or inspired them in some way. I also appreciate the listener who calls to inquire why my selection is so poor.
JULIA: I'd be remiss if I didn't say meeting my husband, Belmiro, was my favorite listener interaction! He had been listening for some 15 years before calling one day to express his appreciation for the show. This was not uncommon but he was my first Sao Tomean caller. So, being the music/radio nerd I am, we arranged to meet by the radio station so I could borrow some music from Sao Tome & Principe and other lusophone countries. The rest is history. Other memories include the interviews we've done — Sir Victor Uwaifo from Nigeria, A.B. Crentsil from Ghana, and Oliver Mtukudzi from Zimbabwe are three of my favorites. I did memorably have one tour-weary guest fall asleep in the middle of an interview but he shall remain unnamed.