Here's a featured show interview with Nancy, one of the hosts of King Ghidorah! Today's featured show interview is bittersweet as it marks the end of Nancy's 25 years at WMBR. Nancy is doing her last radio show at WMBR 2-4pm tomorrow 4/14 before she moves to the sunny shores of Las Vegas Nevada. We'll be missing her tons, so be sure to tune in!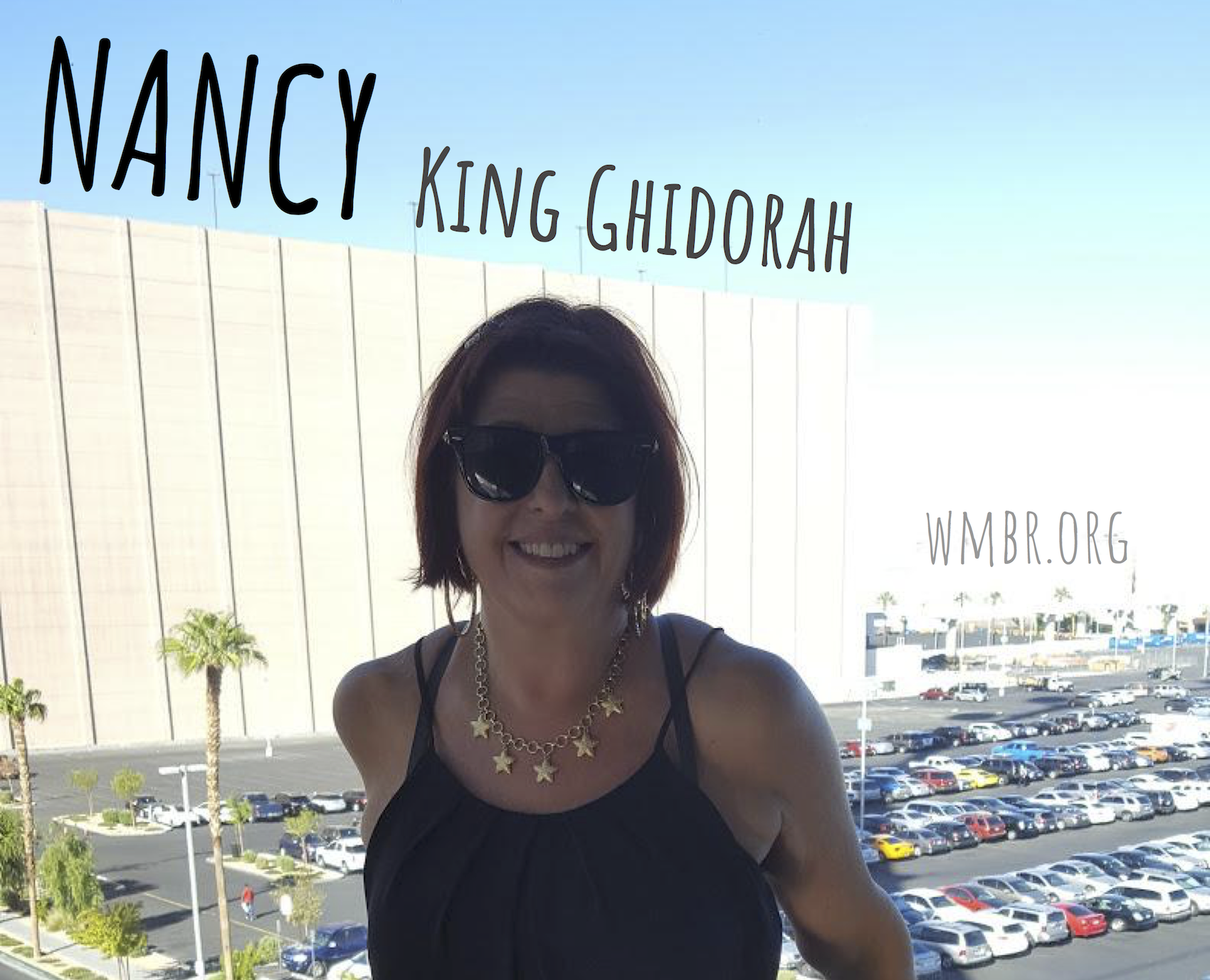 * How did you first get involved with WMBR?
NANCY: Back in 1993, I was working in the Department of Chemical Engineering HQ. I got pretty friendly with many of the graduate students. There was one guy, Bill (and I cannot remember his last name) who did a show called "Capital Radio" – it was on Friday's from 2 to 4pm or 4 to 6pm (again, can't remember). Bill was also the Program Director at that time. At one of the Chem E socials, I got into a conversation with Bill about rockabilly music. He invited me and my best friend to come down one Friday afternoon to play rockabilly and talk about it. Bill "recruited" me to join the station because of my MIT affiliation. However, I really did not get active until 1 or 2 years later.
* How has WMBR changed since you first joined?
N: Honestly – there's much more student involvement now. And it's really refreshing! Back when I first joined, there was a handful of active student involvement. Most of the student shows were late in the evening or overnight. I notice that the student membership now is much more receptive to the community membership – inviting them to listening parties and such. Additionally – the footprint of WMBR has changed! The record library is double the size of what it was, when I first joined. Also – there's A-Control! That was built when Marianna Parker was GM. When I first joined, B-control was pretty much the only on-air studio.
* What's your favorite WMBR memory?
N: There's actually a few that I'd like to share!
Getting my first show on Saturdays at 4 to 6pm. It was called the Clueless Clubhouse.
Then there was all the band interviews I did (I was REALLY bad at interviews). One memorable one was when I interviewed the Dictators (Hansom Dick and Andy Shernof).
Doing Cheese Patrol for the very first time! I talked Lisa & Sue into doing a 24 hour Cheese Patrol – we discussed it on air and the listeners kept calling and begging us to do a 24 hour Cheese Patrol.
Celebrating my birthday on the air! I managed to do that a lot – whether it was on my Saturday time slot or sometimes on LRC.
Lastly – doing radio on Christmas Day (or Christmas Eve, whatever the calendar dealt a particular year)! I'm going to really miss doing that – a lot. I started doing it in 1995 and I think I missed maybe 2 or 3 years. I would do anywhere from 2 to 6 hours – straight.
* Do you have any musical or radio-related hopes for the future?
N: I'm not sure if there is any college or community radio in Las Vegas, but if there is, I'd certainly look into it. I wouldn't mind doing voice over work but I honestly wouldn't know where to start.
* What song sums up your feelings about moving?
N: Johnny Thunders, "You Can't Put Your Arms Around A Memory"
You can hear Nancy's last show on King Ghidorah tomorrow 4/14 from 2-4pm on WMBR 88.1fm.