Today marks the start of Women's Week, WMBR's celebration of International Women's Day 2018! We're kicking off the event with a featured show interview with Sara, host of 1001 and resident WMBR storyteller. You can hear Sara on the air tonight 3/5 from 10-11pm!
Women's Week runs from March 5th-11th, featuring a week of women-centered programming. We're also holding an on-campus panel about media, activism and social justice, 7pm this Wednesday 3/7 – learn more here!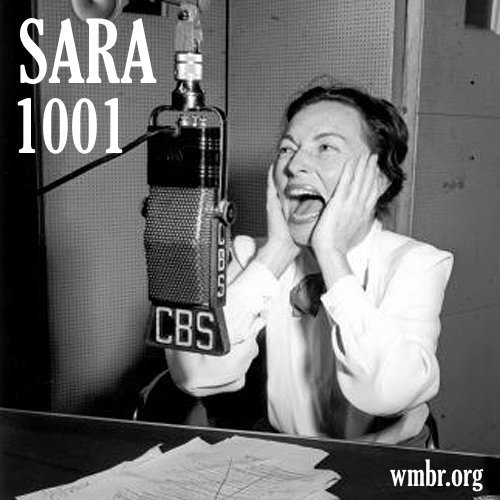 * How did you first get into storytelling?
SARA: I've always been really into genre and pulp fiction, though i was not terribly familiar with audio and radio dramas before starting 1001. Initially, I had planned on playing episodes of 'Welcome to Night Vale', a popular twilight zone-esque fiction podcast. Unfortunately, I quickly found out that the producers of Night Vale do not allow rebroadcasting, and had to find alternate programming. In the process of searching for alternate programming, I discovered a treasure trove of old time radio dramas, and have been listening to them ever since!
* Have any listener interactions been particularly memorable?
S: Yes! I have this one particularly enigmatic listener who goes by the name Ante-Matter. They write me these lovely handwritten letters with suggestions on what to play, and occasionally also pen these long scripts that are inspired from the content i play in my show. They're actually responsible for coming up for coming up with my moniker 'The Restless One'.
I have also had memorable one-off interactions with listeners. I've had some excellent conversations with callers who were very knowledgeable about old-time radio dramas. I had a call for someone recently who was listening to WMBR while working Christmas night and wanted to thank me for playing christmas stories. I initially started my show as an excuse to listen to fiction and improve my improvisational skills, but interacting with my listeners has become my favorite part of running my show!
* How would you characterise the state of women in horror writing?
S: What many people don't realize (what I didn't realize at least) is that women have been active in horror production since the heyday of Orson Welles. Lucille Fletcher, a screenwriter, wrote horror radio classics such as 'The Hitchhiker' and 'Sorry, Wrong Number', which Orson Welles called 'the greatest single radio script ever written'. Many of the horror productions from that time were adapted from stories that were sometimes written by women. For example, Hitchcock's eponymous movie (and radio production) 'The Birds' was actually adapted from Daphne du Maurier's short story 'The Birds'. I could go on for a while, but what i'm getting at here is that women were involved in producing many early horror classics, and do not get the recognition they deserve for it.
Today, there are some excellent psychological/horror films being directed or written by women. Films such as 'The Babadook', 'A Girl Walks Alone at Night', 'American Psycho' and 'Raw' have enjoyed critical acclaim. Female writers and producers are also well-represented in the modern audio fiction; though there are not many horror podcasts that draw from the experiences of women.
In my opinion, one of the most effective ways to inspire fear is to draw from a real-world fear people have. Female writers are in the unique position to draw on a set of fears that have not been covered extensively in film (and radio).
* What's a favourite story you've shared or read recently?
S: That's a difficult question. Of the modern programs I've played, I think my favorite is standalone episodes are 'The Whistlers', 'Soft, White Damn' and the 'Search and Rescue' series. Of the old-time radio programming, my favorite episodes are probably 'The Thing on the Fourble Board', 'Sorry, Wrong Number', 'Johnny Got his Gun', 'The Hitchhiker' and 'The House on Cypress Canyon'.
I've been on a science fiction kick recently. Of the things I recently played, I've enjoyed 'A Gun for a Dinosaur', 'Bathysphere', 'Hostess' and 'Cold Equations'.