For our first snowy December featured show interview, we spoke to Marta, host of Prompt Corner! You can listen to Prompt Corner every other Monday at 6pm on WMBR.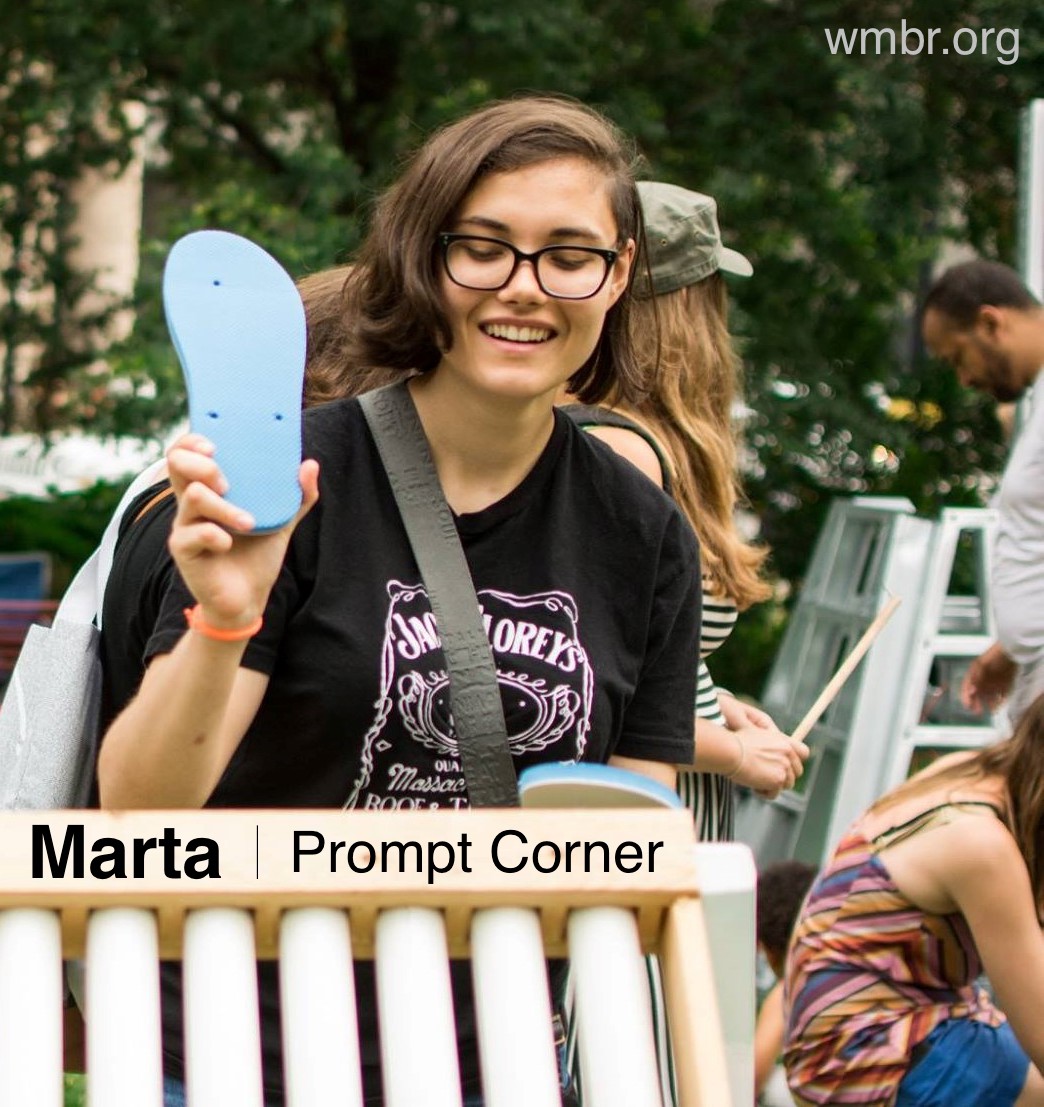 [Photo credit: Eurah Ko]
* How would you describe your show to a first-time listener?
MARTA: It's a show about theater! I try to spread the word about good opportunities to enjoy live plays in the Boston area. I mostly review local theaters, but I've also talked about amateur/student productions, and even about recorded shows that are available online. I often have guests. When it's helpful, I like to include songs, movies, paintings and articles and that are related to performance arts, or that share a common theme with a play.
* Do you feel like hosting your radio show has changed the way you experience theatre in person?
M: Now I have a great excuse to see more plays!
Besides that, there's a big step between watching a live performance and trying to share your experience with a listener who has probably never heard of it. Prompt Corner has no spoilers: instead of describing what I've seen, I talk about the reasons behind my reactions. There are so many sides to a show: acting and character accents, costumes, sets, lights… too much information! Preparing reviews made me much better at understanding why I perceive a play the way I do.
* What's your favorite WMBR memory?
M: During my first season, Prompt Corner was on Saturday nights, just before PJ's Mellow Madness. PJ has a huge following and his listeners kept calling during the evening and asking: "Is he going to be there tonight?" I didn't know the answer, but calls kept coming in anyway. After a few weeks, I started an experiment called Waiting for PJ: Performance Art At WMBR. I kept asking my own listeners to call the station and ask me if PJ was coming, so every time I could reply "I DON'T KNOW!" I included some Godot-style reflections like "I forgot: why are we waiting for PJ? Is PJ even real?" The true PJ thought it was funny.
This is also how I found out that I had listeners, which was a huge motivation boost for a newcomer! So now I'm doing my third season.
* What song(s) best characterize the end of the semester to you?
M: I had the unwise idea of writing a final paper on the musical Gypsy for one of my classes. The show is about the life of Gypsy Rose Lee, the first international star of burlesque. It's a fun project… but now numbers like Mr. Goldstone and Some People are stuck in my head on repeat. They're about a woman on the verge of a nervous breakdown, so maybe not the best soundtrack for my last week of classes 😉 Still, it's a great show.