With day 2 of our 2017 fundraiser comes a featured show interview! Our featured show is Amorphous, hosted by Genna and Bryce. You can hear them on the air on Fridays from 10-11pm, including tonight!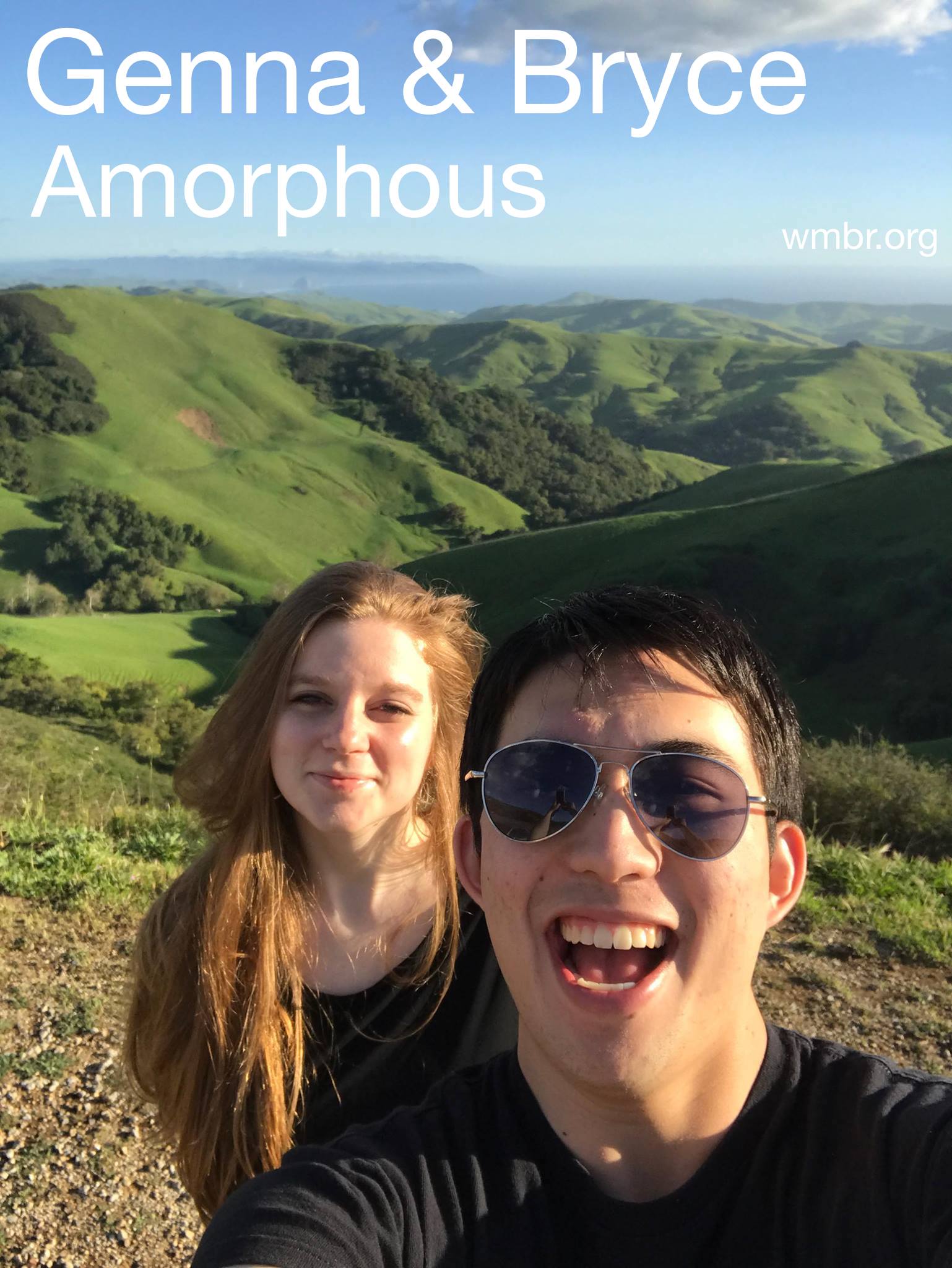 Genna and Bryce of Amorphous!
* How did you decide to do a radio show together?
GENNA & BRYCE: Two Septembers ago Bryce asked me if I wanted to host a show for WMBR. We had become friends that summer, having lived in the same house, and often sent each other songs. Not only did we have a similar taste in music, but we found it very easy to talk to each other (about anything!)– I said yes, and before the start of October we had begun broadcasting "Amorphous" and were dating.
* How would you describe your show to a first-time listener?
G&B: We play an "amorphous" mix of music based on a different theme each week. Past themes have included everything from the evolution of bossa nova to odd time signatures in jazz to Mexican popular music to pop songs with "California" in the title. If you like a grab bag of music, we're the perfect show for your Friday evening.
* What are your favourite things about WMBR?
G&B: The community and the ability to share music outside of what's played on mainstream stations. It's actually incredibly liberating to only be beholden to what we and our listeners are passionate about. For me (Bryce) personally, I'm still enamored by the idea of being able to reach people in the broader public through radio. Oh and the calls we get (at 617-253-8810) are always a ton of fun too!
* What songs most represent fall/autumn to you?
G&B: Oh boy, this one's a tough one. On the one hand, fall has always reminded me (Bryce) of a time in between – so something ambiguous but cheerful like Wynton Marsalis' "Where or When" comes to mind. The other thing that comes to my head is "The Fall" by Rhye – the soft, wistful crooning of Mike Milosh captures the feeling of something beautiful slipping away. But I guess for autumn more specifically, maybe Neil Young's "Harvest Moon."
You can support WMBR during our 2017 Fundraising Week by pledging at this link!