Our current featured show is Background Music, hosted by DJ Lipika!
Background Music airs weekly from 7-8pm on Mondays.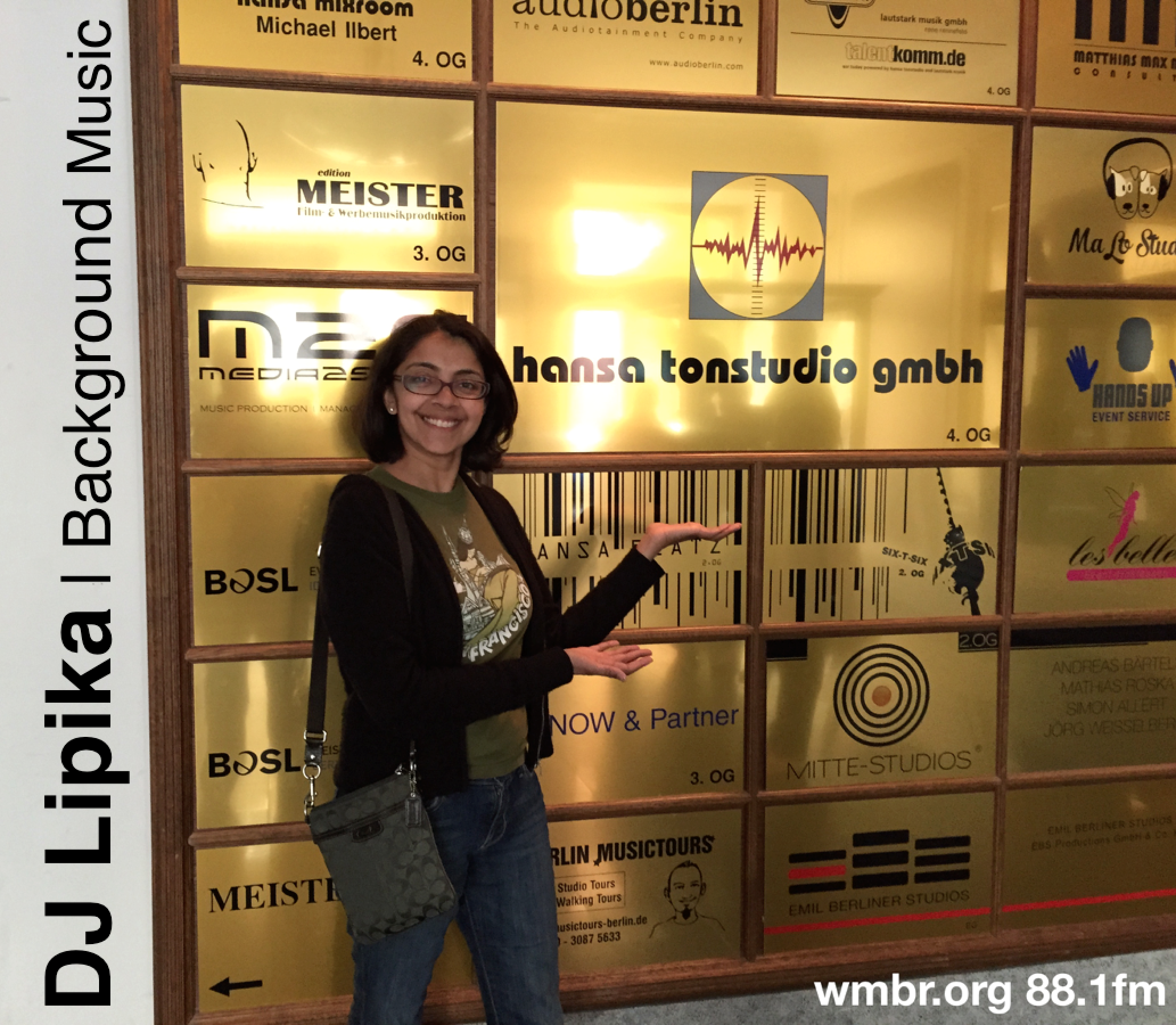 Lipika at Hansa Studios in Berlin!
* How did you start getting involved with WMBR?
LIPIKA: I had a show at the radio station at my college for 7 years – WRUW 91.1 FM in Cleveland. I moved to Baltimore for 6 years after that. I was really busy during that time and I completely stopped listening to music. It was a dark period for me. I decided that I needed to make a change once I moved to Cambridge. I was on the lookout for an opportunity to be part of a radio station again and one day I saw an ad in the Phoenix for a promotions Q & A with college radio DJs at the Middle East. I showed up and the first person I spoke to was Tim Kelly. He offered to show me the station after his show. When I set foot in the record library I was hooked!
* What's the inspiration behind Background Music?
L: The inspiration is that I oftentimes need music to bring me up, or help me vent my fury, but I also need music to keep me steady. Toward the end of the dark music-less period in Baltimore I started listening to a Bill Laswell Pandora station in the background at home and when I was in hotels on work trips. I found this to have a calming effect on me. That was what made me realize that I wanted to get back into radio. I hope that people will listen to my show, maybe on the archives when they are feeling a little stressed out, and feel better.
* Do you have a favorite WMBR memory?
L: The 50th anniversary party is the first thing that comes to mind. I met Laura when I volunteered to hang up decorations. I had some crazy idea and she suggested that we stay within a more well-defined plan and not stress ourselves out. Ha ha! I had so much fun talking to people like Mully, Jesse, and Will during the party. Keith's humor and DJ set really stand out in my memory. There have been so many other great memories over the years including Ampersands and Fundraisers. It's hard to pick a favorite one!
* How do you discover new music for your show?
L: 99% of what I play is from the new CD rack in the station. (This is a habit I developed when I was a freshman – enter the station, peruse the new rack. In my old station the new rack was actually physically located in the On Air studio.) L-train and others have formed relationships with certain labels and some of the labels do an amazing job of identifying new artists. I think it's important to foster those relationships. That's what separates us from commercial stations. I don't have a lot of time to search the internet for new music, so I am truly grateful to be part of the WMBR community and to be the beneficiary of a set of talented curators!