We spoke to Alley Stoughton for this week's featured show interview! Alley brings modern classical music to WMBR through the show Not Brahms and Liszt.
You can hear Not Brahms and Liszt on WMBR every Monday from 4-5:30pm.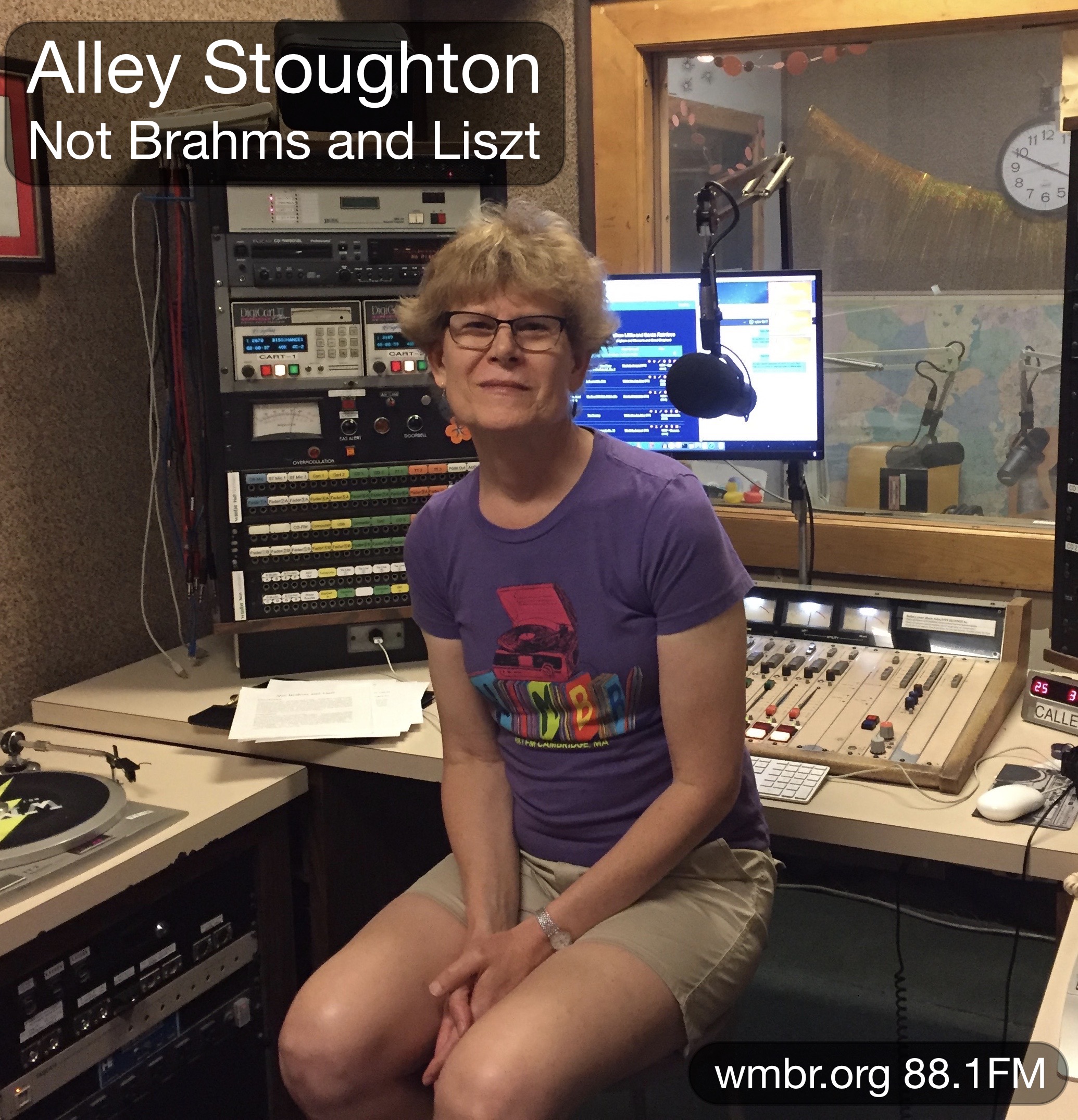 * How did you first get involved with WMBR?
ALLEY: I'd been a long-term listener — even when I lived in Kansas, where Nancy Nangeroni and Gordene MacKenzie's GenderTalk brought me to the station, but I especially loved Aural Fixation and James Dean Death Car Experience. Three years ago, I guest DJed on Aural Fixation. Because I was MIT Staff at the time (MIT Lincoln Laboratory), I thought why not join the station?
* What is your favourite part of hosting Not Brahms and Liszt?
A: I always loved modern classical music, but since I started doing research for a weekly show, I've become astounded by the quantity and quality of the work composers are producing. Modern classical music is a small enough niche that composers and performers are often more than happy to interact with producers and DJs interested in programming their work. I've connected with a number of composers on Twitter and by email. One composer recently told me "Sometimes I feel that our era may come to be regarded as a golden age compositionally". I wholeheartedly agree, and I'm thrilled to be able to bring new work to the airwaves.
* Do you have any particularly memorable listener interactions?
A: I love it when listeners phone or text to say they are happily amazed I'm playing long pieces — in their entirety — on the air. This happened during my celebration of Steve Reich's 80th birthday last fall, while playing his 57 minute long minimalist masterpiece "Music for 18 Musicians". Another example was when playing Julia Wolfe's Pulitzer Prize winning oratorio "Anthracite Fields", which combines classical, rock and folk idioms.
* What has been your favourite music to play recently?
A: Among my recent favorites was mezzo-soprano Aylish Kerrigan and pianist Dearbhla Collins's recording of Irish composer Seóirse Bodley's 1978 "A Girl". This piece is a cycle of twenty-two songs based on poems specially written by Irish author Brendan Kennelly. The girl of the title is pregnant, and the poem sequence "traces her emotions and thoughts as she moves toward the only logical solution she can see".
[Learn more about Not Brahms and Liszt at Alley's website!]