This week's featured show is Sound Principles, hosted by Fred Allen! Since discovering WMBR in 1990, Fred has been involved in the station, with participation ranging from being an avid listener, to hosting his own show, to saving with station with subs at all hours.
You can catch Fred on the air every Wednesday at 6pm (or just listen along anytime – he'll probably be subbing for someone sometime soon!).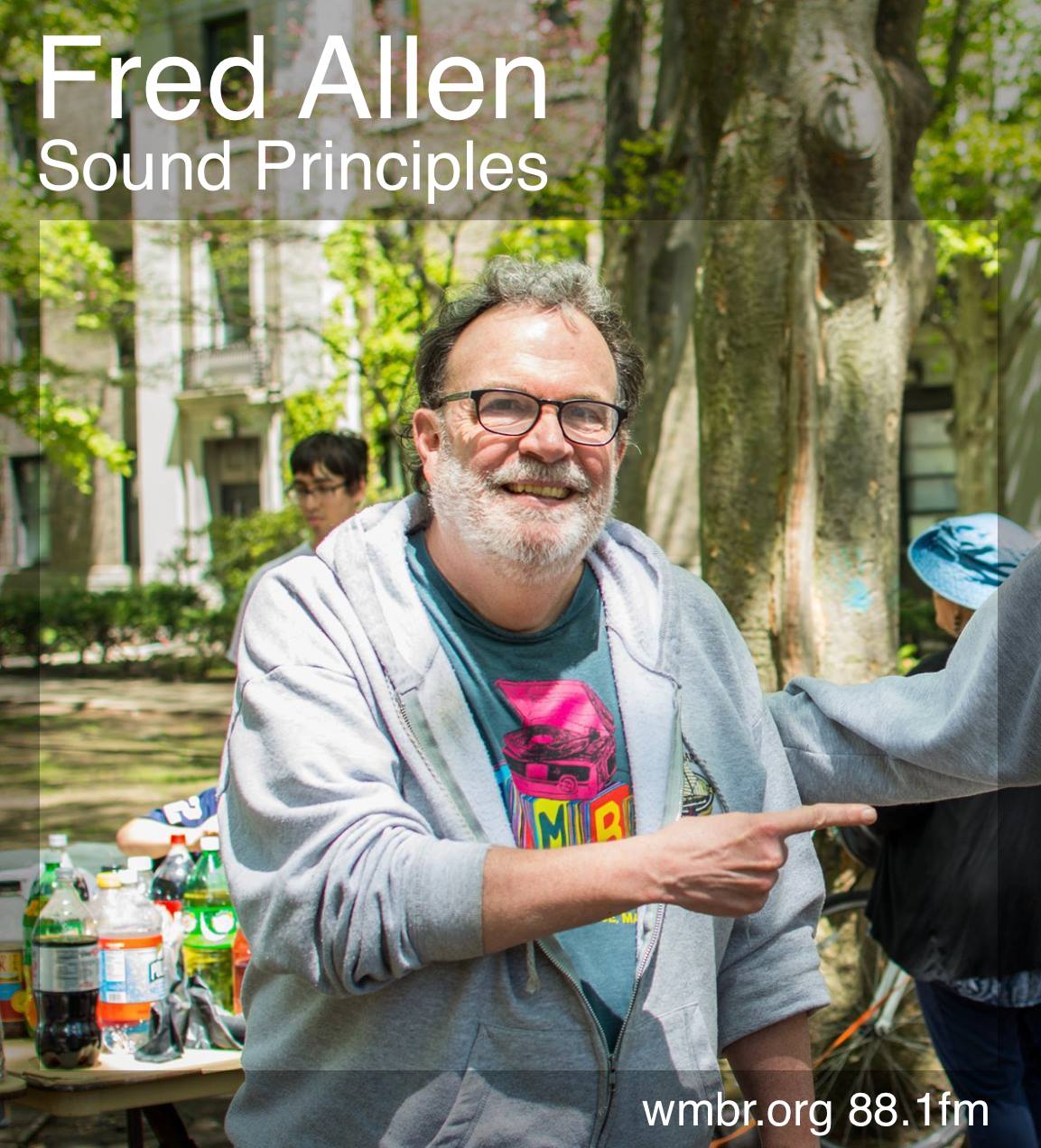 Photo by Eurah Ko.
* How did you get involved in WMBR?
FRED: A long time ago (1990!) in a different life, I worked in Lawrence. Cars didn't have CD players in those days (tres primitive)so I was dependent on the radio. Driving home on Route 93 one day I discovered a far away station that played jazz in the late afternoon.
One day the station had a fund raiser and for a certain amount you could do an hour on a show. So I did. And when I did the show some people at the station thought I was good and said I should become a member. So I did that, too. And aside from several years in the middle when things in my life took me away, I've been more or less hanging around ever since.
* How has WMBR changed since you first joined the station?
F: The technical changes have been astounding. There were no computers in the control rooms, promos and PSAs were physical tapes, no streaming, no track-blaster, the news was recorded on reel-to-reel, hamsters on wheels powered the station–wait, that last one is wrong.
And there was only ONE CD player per control room. Imagine. I remember programming shows where I would play one CD, then vinyl, then another CD, then a couple of records. Never two CDs. Now you kids just plug in your laptops, after which you walk on my lawn. Knock it off!
As far as people here, it seems to me we are a much more diverse bunch these days, which reflects the changes in student population. Bursts my white bubble, which is fine with me. Hope it continues.
* You've subbed for tons of shows at the station! What show has the hardest for you to find content for? What show has been your favourite to sub for?
F: I never felt I did Non-Stop Ecstatic Screaming, which I subbed on a couple of times, real justice. And Bats In The Belfry, which I enjoy doing, is a big stretch. My current favorites, in no particular order, are Lost & Found, The Jazz Train, The Intercontinental and Second Fiddle.
I like doing the occasional indie pop show, but I couldn't do it without the internet, which makes the research easier. I was really excited when I did Dissonace. And Sci Fidelity.
* What favorite track have you played on Sound Principles?
F: I'm not going to answer that directly. Let me just say that I really enjoy playing artists who practically never get played on the radio. When I meet the musicians I play some of them seem stunned when I tell them that's what I do. And the type of avant garde jazz I play has seen an amazing influx of women artists in the past 10-15 years. Any show were I can play say, Mary Halvorson, Ingrid Laubrock, Kris Davis, Satoko Fuji, Lisa Mezzacappa, Jen Shyu, Myra Melford etc., is a good show.
But I did recently play Julia Hulsmann, a German pianist, covering a Radiohead song, "All I Need." That was cool.