[Originally posted on the WMBR Facebook Page on the 13th of November 2016.]
It's day 4 of fundraising, and we're celebrating with a featured show interview with Jon Bernhardt, the Friday host of Breakfast of Champions (and the theremin master behind Jon Bernhardt's Excellent Theremin Adventures – Solo, The Lothars, etc.)! You can support the station during our #WMBR2016 at this link: http://bit.ly/2f9DYYK
You can listen to Jon every Friday from 8-10am on Breakfast of Champions! Tell us why you tune in with the tag #WhyITuneIn – we'd love to hear from you.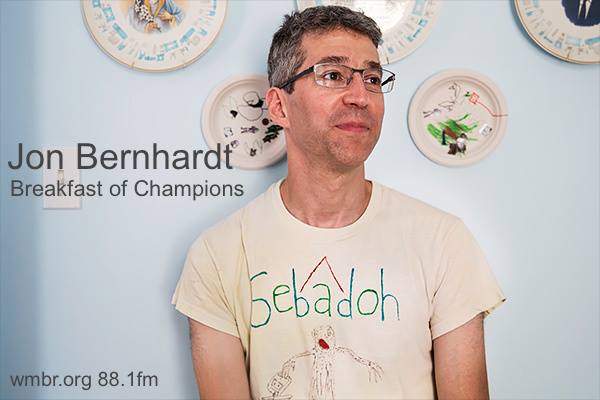 Photo by Scott Murry.
* How did you get involved in WMBR?
JON: Back in the fall of 1983, I was starting my sophomore year here at MIT and I stopped in at the Activities Midway. I'd heard a bit of WMBR over the prior year, but it wasn't really on my radar. What did ping my radar was the cute blonde at one of the tables. She turned out to be Tami Heide, WMBR's then-Music Director (currently still at 93.1 JACK FM in L.A.) who said she was looking for help in entering records and all those things that the music director does. I approached her and, in my best pimply-faced teen voice, said "I'll help you with that!"
I had no intention of even hosting a show, but when I got back to my dorm (East Campus, 41st West!) a hallmate, Larry Kolodney, said he had been thinking of joining up to do a call-in show. The two of us came up with Flame Session and within weeks we were on the air. (At the time there were VERY few students members so it was insanely easy for a new student to get a show). Initially, we had hoped to discuss serious issues, but it soon became clear that the only people who'd call in on a Saturday night were high school kids with nothing better to do. We just went with it and the show got more and more ridiculous. For reasons that still escape me, the "cool" DJs on WMBR loved the show and when Larry was unavailable, they'd line up to fill-in for him. One week Tami Heide filled in and I was more nervous than when I did my very first show.
Flame Session lasted a few years but overlapping with that, in June of 1984, I was invited to take over one of the slots on the Breakfast of Champions, and I've stayed put ever since.
* How has WMBR changed since you first joined?
J: A lot has changed since 1983. When I started, CDs weren't yet widely available. We were 200 watts and mono. Both the A and B control boards were these homemade contraptions and nothing was labeled. That's because John Sasse, who was the Ted Young of his day, insisted that engineers should just KNOW where things were; labels were a crutch. If you think the OTA engineering test today is difficult, you should've seen what we had to go through with Sasse. I think there was a section where we had to walk uphill barefoot in the snow. Both ways!
I think what's changed the most is how I learn about and gather music for my show. Sure then as in now, labels would send WMBR promotional records. But lots of stuff doesn't get sent here. As a WHRB DJ once proclaimed to me, you cannot be a good DJ unless you BUY records. These days, everyone and their mother shares Bandcamp and Soundcloud links on Facebook, so you can learn about new music and hear it instantly. Back in the 80s we had these things called "fanzines". They were sort of like blogs except they were written on this stuff called "paper" and you got them via snail mail or at these places called "record stores". Instead of providing a link to an mp3, these fanzines would sometimes include a 7" record or flexidisc inside but that was rare. When the new issue of Conflict or Forced Exposure came out, you were flooded with information. Imagine if all of Pitchfork's news items and reviews were posted once a month, all at once. It was kinda like that, except you couldn't actually hear the music! Spending money involved a leap of faith since you were relying on the word of your trusted fanzine writer.
Which brings us to our next step — You had to actually GET THE MUSIC. That often involved sending a paper check to a stranger and a few weeks later a package would mysteriously show up on your doorstep. It was like PayPal and Bandcamp, but less environmentally friendly.
The other way I learned about new music was through my favorite local Record Stores. Natalie Waleik and Conrad Capistran — both former WMBR DJs! — were the record buyers for Newbury Comics and In Your Ear. They knew my tastes and inevitably pointed me to great new music every week. They were like those music expert Facebook Friends who always post great links on their walls. Except that you actually had to leave your house.
* How do you come up with your weekly show theme?
J: Oftentimes, I'm working backwards from a song or band I want to play. For example, I might think, "I haven't played the Wipers in a while. What songs of theirs do I like that would fit nicely into a theme." Othertimes, it's related to something in the news, like when I recently played a half hour of "p***y" songs.
* Best part about going on the air?
J: Getting to share all the incredible music I've discovered or re-discovered over the past week or two. When a new song (or something old I'd forgotten about) gets me excited, I can't wait to play it over the airwaves to share that excitement with the listeners.
* What's your favourite WMBR memory?
J: That's a tough one because there are so many. But I'll go with arranging to have the Television Personalities play live in our studios back in 1992.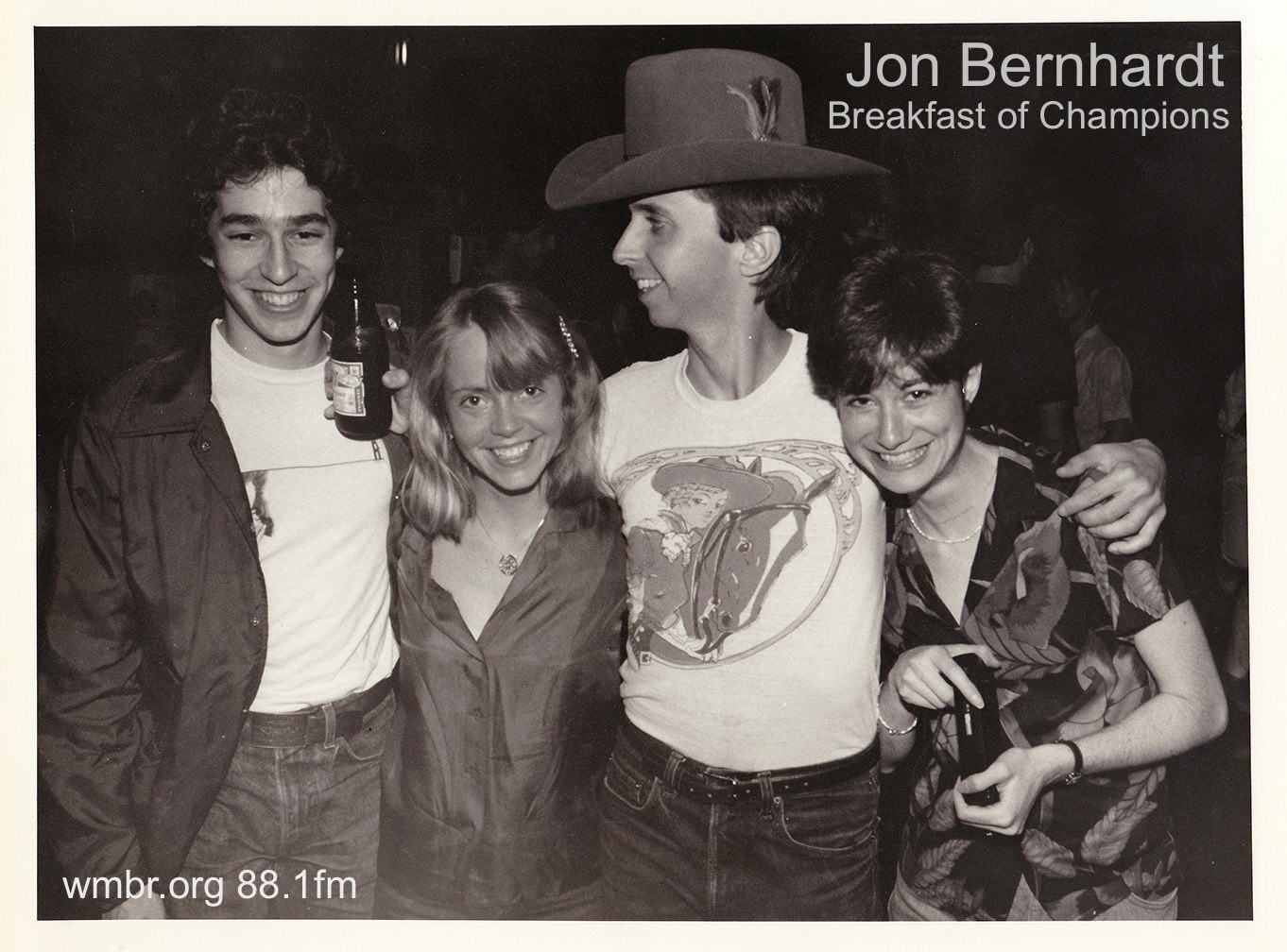 Photo by Paul "Blowfish" Lovell from 1985. Left to right are Jon Bernhardt, Tami Heide, Greg Reibman, and Cindy Bailen.
[The opinions and language used are that of the interviewee, not of WMBR.]